1921
Ferryhill Athletic formed by members of Dean Bank Villa FC. They competed in the Palatine League. They played their first game against Spennymoor United Reserves, winning 5-1.
FERRYHILL FOOTBALL AND ATHLETIC CLUB LIMITED (THE)
Ferryhill won the Durham Amateur Cup in 1921-22.
1922-23
Ferryhill applied to the Northern League for a place after Redcar dropped out. Coundon and Loftus were the other teams that applied, and following a ballot it was Loftus that were elected.
1923-24   2nd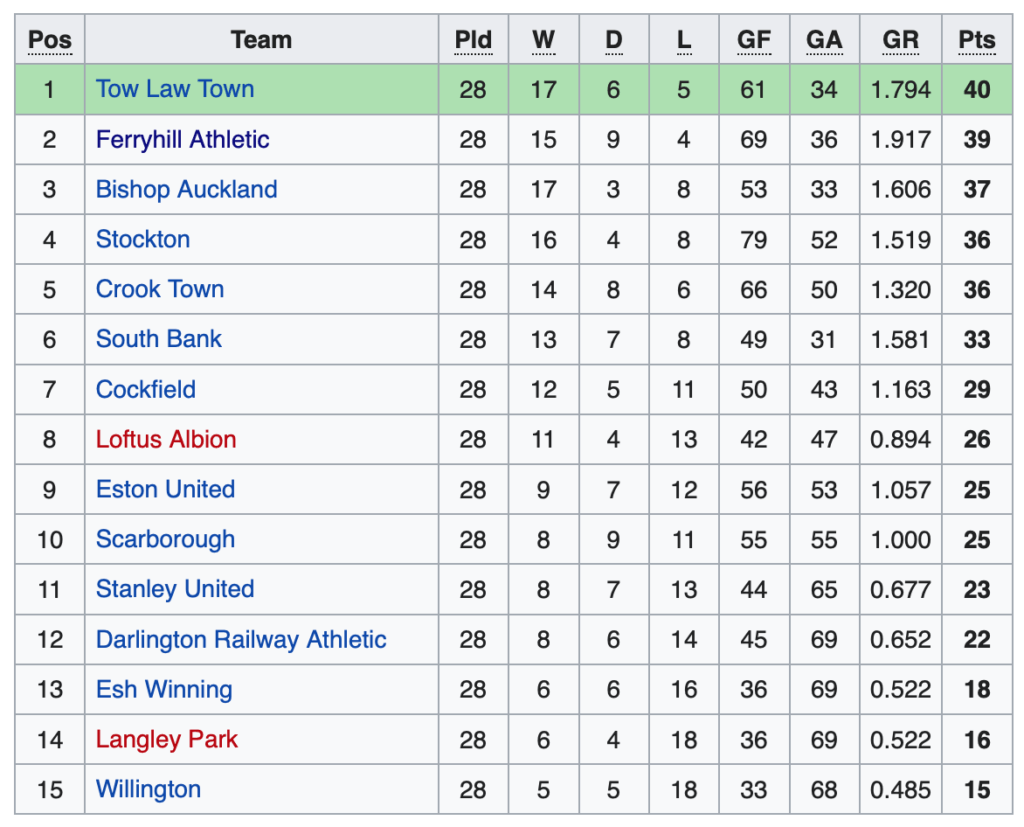 After being unsuccessful the previous year, Ferryhill Athletic were finally elected to play in the Northern League. In their first full season, Ferryhill Athletic finished runners up to Tow Law Town by a single point. Their first game in the Northern League was away to Stanley United, ending as a 2-2 draw after being 2-0 down.
The team that day was :
Con Hewison, J Patterson, JP Taylor, CR Proudfoot, F Turner, F Auton, T Dunn, R Dixon, H Mason (1), E Latheron (1) and S Butler.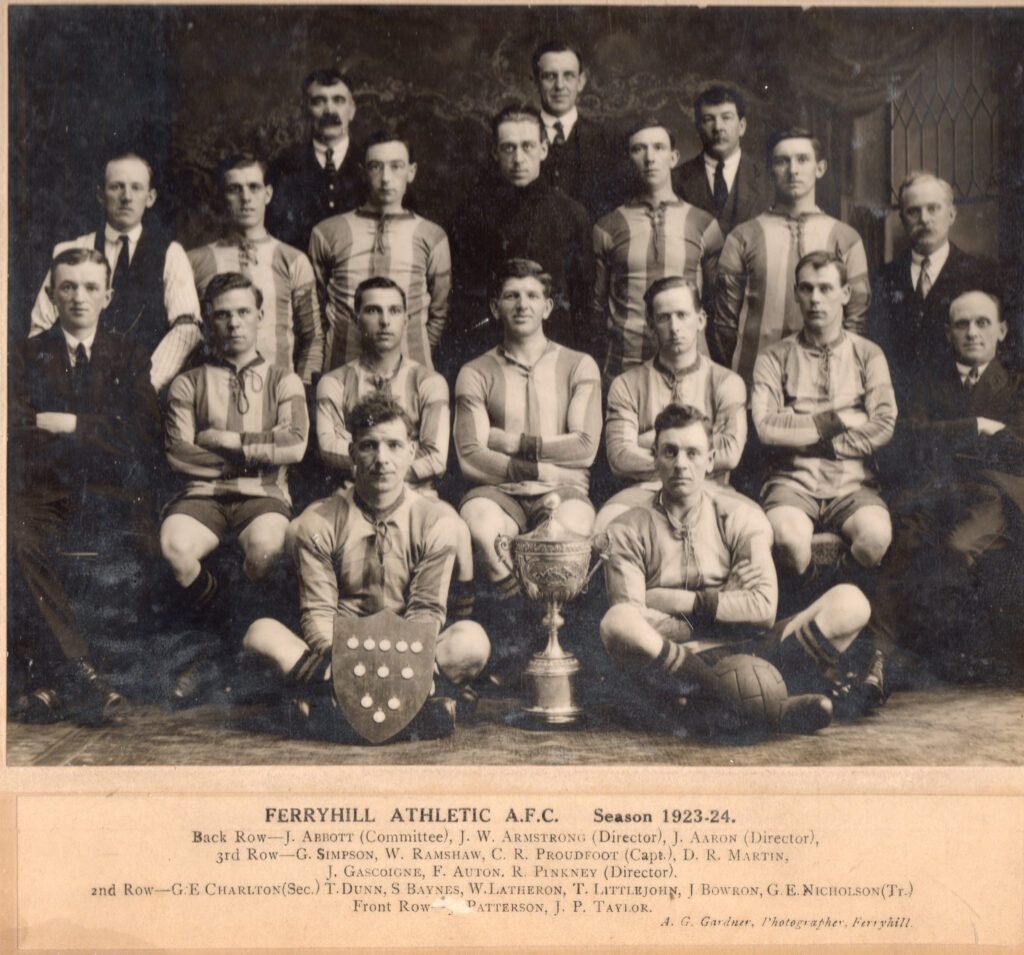 The first game at Darlington Road was also against Stanley United on September 1st 1923. Ferryhill came out 3-1 victors.
They lost in the final of the Northern League Cup to Cockfield 3-1, but won the Durham Challenge Cup against the same opponents, 1-0.
Ferryhill Athletic's Darlington Road ground was officially opened on April 19th 1924 before the game with Bishop Auckland. Ferryhill finished unbeaten at home.
Ferryhill's Cecil Proudfoot was in the Northern League team that beat Corinthians 3-1 in December 1923.
1924-25   7th
Not as successful as their opening season in the league, finishing 7th.
Early in the season, Ferryhill absolutely stuffed Willington 7-4 at Darlington Road. The scorers that day were Scott 2, Latheron 2, Dunn, Littlejohn and an og.
On Christmas Day (yes they played on Christmas Day!) they got a resounding festive victory in the shape of an 8-2 thrashing of Darlington RA. (Littlejohn got a hat trick, Ramshaw got two, Latheron, Scott and Dunn completed the scoring).
Ferryhill were runners up again in the League Cup, losing 2-0 this time to Willington. Gate receipts for the match were £91-15-6d.
On 2nd May 1925, Ferryhill ruined Crook's chance of the tile by beating them 2-1 at home. Gibson and Latheron were Ferryhill's goalscorers.
Bobby Gurney made his debut for Bishop Auckland this season. He went on to score 228 goals for Sunderland, becoming their highest scorer, winning a full international cap in 1935 and an FA Cup Winners medal in 1936-37. In 1950 he moved into management, taking charge of Peterborough United, Darlington and Hartlepool.
1925-26   4th
A better year. Ferryhill finished 4th, behind Willington (champions), Stockton and Esh Winning. Darlington RA, who Ferryhill had thrashed the previous season, dropped out of the league and weren't replaced, so the season only consisted of 26 games this year.
By 14th November 1925, Ferryhill had built a 5 point lead at the top of the league. They hammered Loftus 9-1 at Darlington Road. Scorers were Latheron 3, Gregg 3, Scott 2 and Littlejohn. The next week they lost 5-4 to Esh Winning (Scott got another 2, with Littlejohn and Johnstone the Ferryhill successes), who had an unbeaten home record to protect.
Ferryhill were still top on Christmas Day, but Cockfield  with a 5-0 victory followed a week later with a 3-2 win to complete the double over the 'Latics. In the 2nd game, Ferryhill pulled back a two goal deficit through Waller and Auton, but Cockfield scored again to send them third.
The form away from Darlington Road was really what let the Athletic down and their challenge faded after Christmas. They won only 3 times on the road.
On 27th February 1926, 9,757 people (a record home crowd for Darlington Road) saw St Albans City beat Ferryhill Athletic in the quarter final of the Amateur Cup.
1926-27   3rd
An improvement again, this time finishing 8 points behind Crook Town, who won the league losing only one game. They beat Ferryhill at Darlington Road, but it was a 3-3 draw at Crook.
The Athletic scored 45 of their 76 goals at home and won 3 games by a 7-2 scoreline, including both home and away against Langley Park.
1927-28   9th
This was a sensational season in the Northern League. Crook Town were suspended on 7th January 1928 for making illegal payments to their players (violation of amateur rules). They were the reigning Northern League champions. It became known as the 'Crook Town Affair'. Their results were deleted from the table in February 1928. Ferryhill Athletic hadn't played Crook in the league at that point, so the Ferryhill placement was unaffected.
Ferryhill only won 7 games out of their 24 in the league, with 12 losses, and posted a negative goal difference for the first time. There were two stirring encounters with Bishop Auckland (a 6-1 win at home, but a 6-3 defeat away).
It was away from home where Ferryhill proved to be particularly poor, with heavy defeats at Chilton Colliery (0-5), Cockfield (2-7), Esh Winning (1-6), Tow Law (2-6) and Willington (2-6) to go with the Kingsway defeat to the Bishops.
1928-29   7th
After the tumultuous happenings of the previous season, 1928-29 revealed the illegal payments problem to be widespread, and 341 North East players were suspended for "excessive tea money and expenses". Many Northern League teams started the season with an unfamiliar look, including Ferryhill Athletic.
The highlight of the season was Ferryhill's 8-6 victory over Whitby United (who finished 3rd) at Darlington Road. Ferryhill led 5-1 at half-time, but a spirited rally by Whitby nearly pulled it back in the second half, despite being reduced to 10 men through injury.
There were 10 victories overall, seven of them at home, but it was the performance on the road that let Ferryhill down again. On the positive side, there were no real pastings that they endured the previous season.
1929-30   7th
Another mid-table finish. The season was affected by yet another team running into difficulties. This time it was Langley Park who resigned in December. Ferryhill had beaten them 4-3 at Darlington Road, but this result was subsequently expunged from the record.
The result of the season for Athletic was the impressive 5-2 defeat of the champions Willington on their home patch.
Ferryhill made it to the final of the Northern League Challenge Cup for the third time, but were beaten 4-2 after extra-time by Stockton. The crowd was around 3,000 at Kingsway, Bishop Auckland.