1945-46   11th
The Northern League re-opened for business on August 25th 1945. Ferryhill were away from home in their first game, going down narrowly 0-1 to Stanley United, the eventual champions.
The season turned out to be a very poor one for Ferryhill, finishing second to bottom. Stanley beat them 7-0 at Darlington Road and there were some heavy defeats away, including thrashings at Bishop Aukland (0-8), Crook (2-7) and Willington (0-6). Ferryhill lost at home to Bishop Auckland for the first time since joining The Northern League.
Stanley scored 101 goals in their 22 league games. Ferryhill's 0-1 defeat early on was the best defensive display against the prolific champions in the whole season.
1946-47   6th
A better season. On New Years Day 1947, Ferryhill Athletic crushed Brandon 8-1 at Darlington Road. All but one of the Ferryhill goals came in the 2nd-half. Ferryhill's baggers that day were McCormack (4), Malone (2), Robinson and Flockett.
There was another remarkable game at home to Crook CW on January 25th 1947. Ferryhill were four down at the interval, but eventually triumphed 6-5. McCormack, from Spennymoor, again hit the net four times. Joe Carr got the other two.
Ferryhill succeeded in getting a playable pitch for their 3rd round Amateur Cup tie against Bromley. They played on 'rolled snow', but all the effort was in vain when they lost 4-3 in front of a crowd of 5,000 hardy souls. They led twice, but couldn't keep it going in punishing conditions.
Right back Tommy Renwick recalled "Within minutes of the game finishing, there was a tremendous snowstorm. Had it come a little earlier, football would have been entirely out of the question. It was so bad, we had great difficulty travelling back to Durham by taxi soon afterwards".
The cold, snowy weather meant that only one Northern League game was able to be played between February 1st and March 22nd 1947. The season didn't finish until June, when Bishop Auckland beat Crook in a playoff, having previously finished level on points in the regular season.
1947-48 Northern League Champions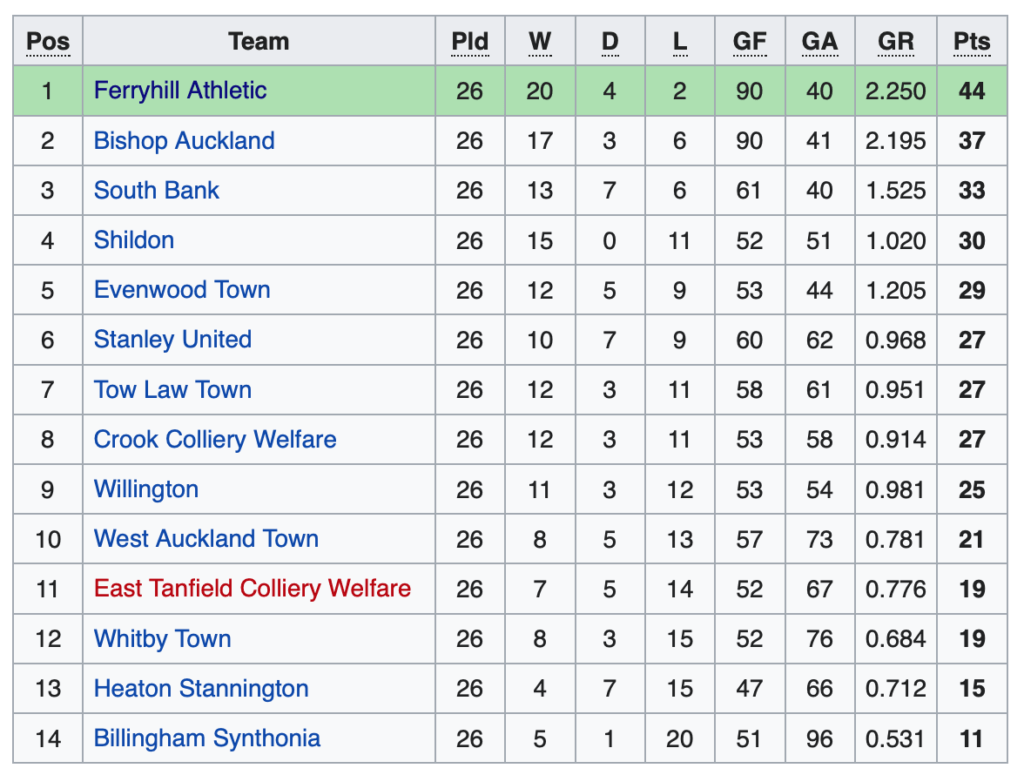 Ferryhill's 2nd Northern League title came with a 7 point margin from Bishop Auckland and 11 points from 3rd placed South Bank. No-one else really came close. The Latics won 20 of their 26 games, being equally strong away from home. Their only two losses were to Bishop Auckland (home 2-3) and Willington (away 1-2).
Bishops did hand Ferryhill a thrashing in the FA Amateur Cup. They ran out 6-0 winners in front of 9,051 fans crammed into the Darlington Road ground.
Ronnie Bell became Ferryhill's only Amateur International, winning a single cap against Wales in 1948. He played at left back for 13 seasons.
1948-49   4th
A more difficult season after the 2nd championship success, but Ferryhill still turned in a respectable finish.
In October, Athletic beat Whitby Town 5-2. Albert Jane, from Shiney Row, scored all five.
On New Years Day 1949, Ferryhill must have been on the ale, as new boys Penrith gave Ferryhill a good hiding 7-1. The Ferryhill keeper Mapstone also saved a Penrith penalty, so it could have been worse.
There were no other really bad defeats on the road, and Ferryhill finished with 14 victories from their 26 games (9 home, 5 away), but goals were harder to come by and just weren't good enough to retain their title.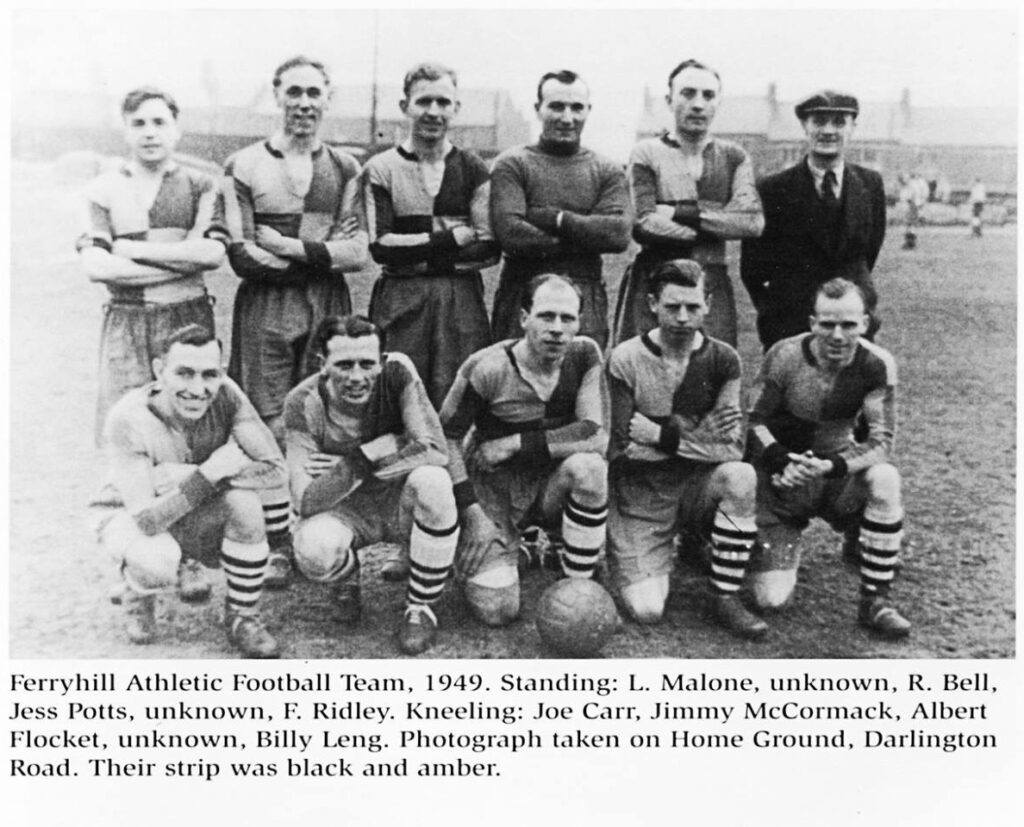 1949-50   7th
Ferryhill slid a little further to mid-table in 1949-50. There were seven wins at home, but they found it difficult keeping the ball out of the net on their home patch and away from Darlington Road. They beat both Evenwood and Penrith 5-3 at home, but lost by the same score to West Auckland.
In the end, Bishop Auckland easily won the title, with Hardisty starring for them. Ferryhill were 16 points back.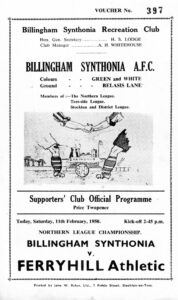 Programme from the game at Billingham Synthonia, played on 11th February 1950 (photos by permission of Geoff Wall). Billingham had a very good side, finishing as runners-up to Bishop Auckland, and they thumped Athletic 6-0 on the day. The honours were shared in a 3-3 draw at Darlington Road.
FA Amateur Cup