And so to the 1950's, a decade which is generally regarded as the Golden Age of the Northern League and Amateur Football. Ferryhill won the Northern League title for the 3rd and last time in the 1957-58 season.
1950-51   10th
I think 1950-51 could be described as a transition year for Ferryhill Athletic. Bishop Auckland and Billingham Synthonia dominated the league. Billingham went through the entire season without even conceding a goal at home, but Bishops still triumphed with a 5 point cushion.
Ferryhill started well, and were actually unbeaten until November 4th when they went down 4-1 to South Bank. The season started to go a bit awry, never really getting going and yet another heavy defeat at Heaton Stannington (0-6) in February brought it all into focus. Heaton actually finished 2 places below Athletic, so not impressive.
Bishop Auckland trounced Ferryhill 6-2 in the Northern League Challenge Cup Final in May 1952. It was Ferryhill's 5th appearance in the final and they've lost them all. Bishops were far too strong, having already beaten Ferryhill twice in the regular season.
1951-52   8th
Another mediocre season, but a slight improvement nonetheless. Ferryhill actually opened the season with three successive wins, the last of which was a 6-1 thumping of Tow Law. Bill Edwards, who was only 17, played at centre-forward and scored five. He later turned professional with Middlesbrough.
In late January, with Ferryhill lying in 3rd place, Heaton Stannington were hosts and beat Athletic 2-1.  The goalie had a great day, keeping out a bombardment from Ferryhill in the 2nd-half. Heaton were a bogey team for Ferryhill and actually did the double this season as they also won at Darlington Road too (2-4).
Athletic put 5 goals past Billingham on their own patch (a very rare thing in the 50s), but incredibly they didn't win as the game finished a 5-5 draw!
Bishop Auckland were totally dominant in the league once again, winning the title by 8 points from Billingham, who had inflicted the heaviest home defeat on Ferryhill (1-7) and Bishops beat the Latics 4-0 in April. The decent start had faded away to a mid-table finish.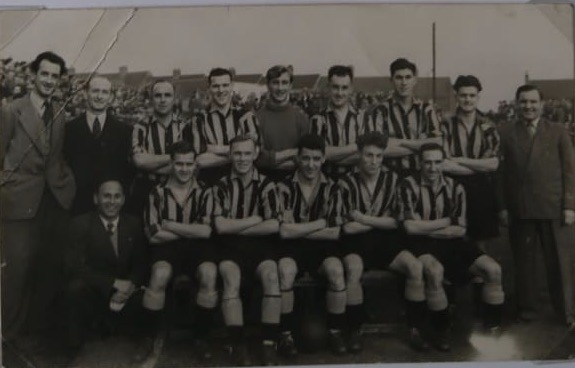 1952-53   6th
A further improvement in league position to 6th, behind Crook, Bishop Auckland, Whitby Town, Shildon and Tow Law Town.
Athletic's defence was actually one of the best in 1952-53, but they didn't score quite enough goals to mount a strong challenge. Their biggest problem was they couldn't beat any of the top five at home, and lost to them all away.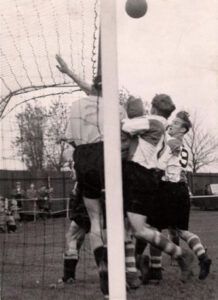 The most notable thing about the 1952-53 season was the emergence of Brian Clough, who played centre-forward for Billingham Synthonia away to Evenwood, as an 18 year old in April 1953.
Clough signed from Great Broughton eight days earlier and scored the equaliser in Billingham's 2-1 victory. Clough then joined Middlesbrough in 1955 and went on to score 251 senior goals for 'Boro and Sunderland before injury ended his career prematurely in 1964.
1953-54   3rd
Ferryhill had a great year in the both the league and FA Cup in the 1953-54 campaign, and on September 26th 1953 they broke the club scoring record to beat Skinningrove Works 18-0 in the first qualifying round of the FA Cup. This remains the highest post war margin of victory in the FA Cup competition to date.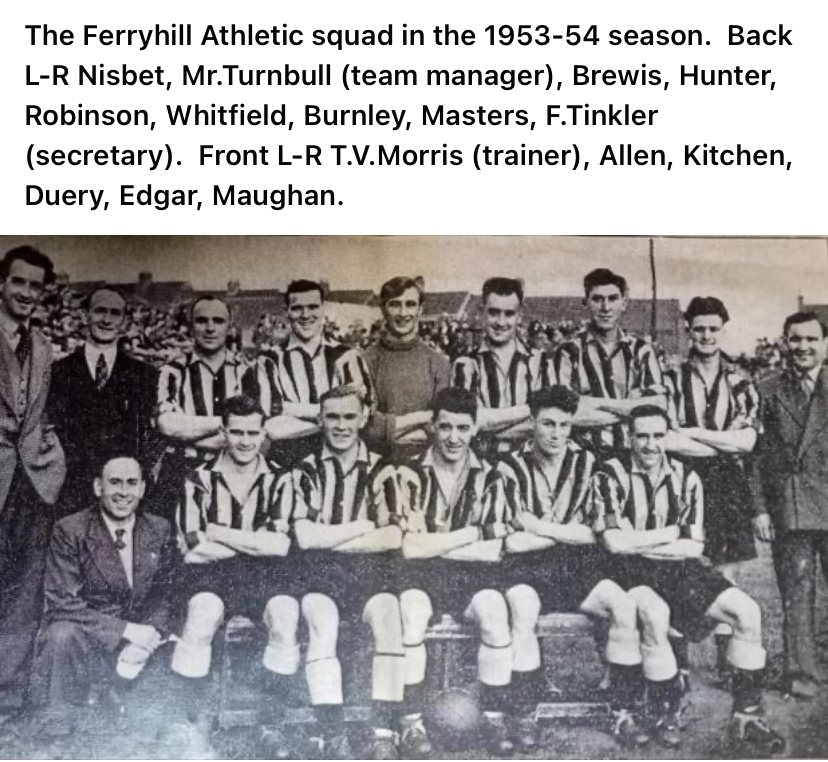 The 'Latics went as far as the 1st Round Proper of the FA Cup in late November 1953. Unfortunately Workington (who were a Division 3 (North) league club at the time) easily won 3-0. Ferryhill took 500 supporters to the game and gave a good account of themselves before succumbing to the greater experience of Workington at the end.
West Bromwich Albion were the eventual winners that year.
1954-55   8th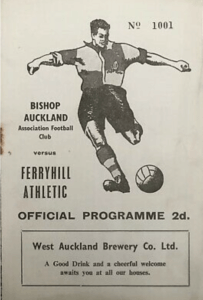 Ferryhill faded again after a good start. In mid-January, Ferryhill lost 2-1 to Shildon in the snow. By early March they were still in 3rd place, but then lost 5-7 to Whitby Town at Darlington Road, after taking a first minute lead through debutant Eddie Armstrong. By half-time, Whitby were 5-3 up. The two teams then shared 4 more goals in the second half.
Athletic's biggest home win was against triple-trophy winners Bishop Auckland. Bishops had won the Amateur Cup, The Northern League Cup and the Northern League title by the time they came to Darlington Road.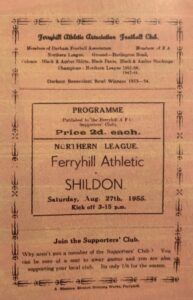 Bishop Auckland rested their star players, played a weakened team and Ferryhill beat the second string by 7-1. Both teams started the game with only 10 men. Bishops played that way until half time! Both teams were fined by the league (Ferryhill £1, Bishop Auckland 2 Guineas).
1955-56   11th
Ferryhill slipped to 11th in 1955-56, mainly due to their abysmal away form. They won only 2 away games, losing 10. They shipped 44 goals away, scoring only 17.
At home, they again beat the eventual champions Bishop Auckland by a 3-1 scoreline, a standout result in a poor season.
1956-57   4th
1957-58 Northern League Champions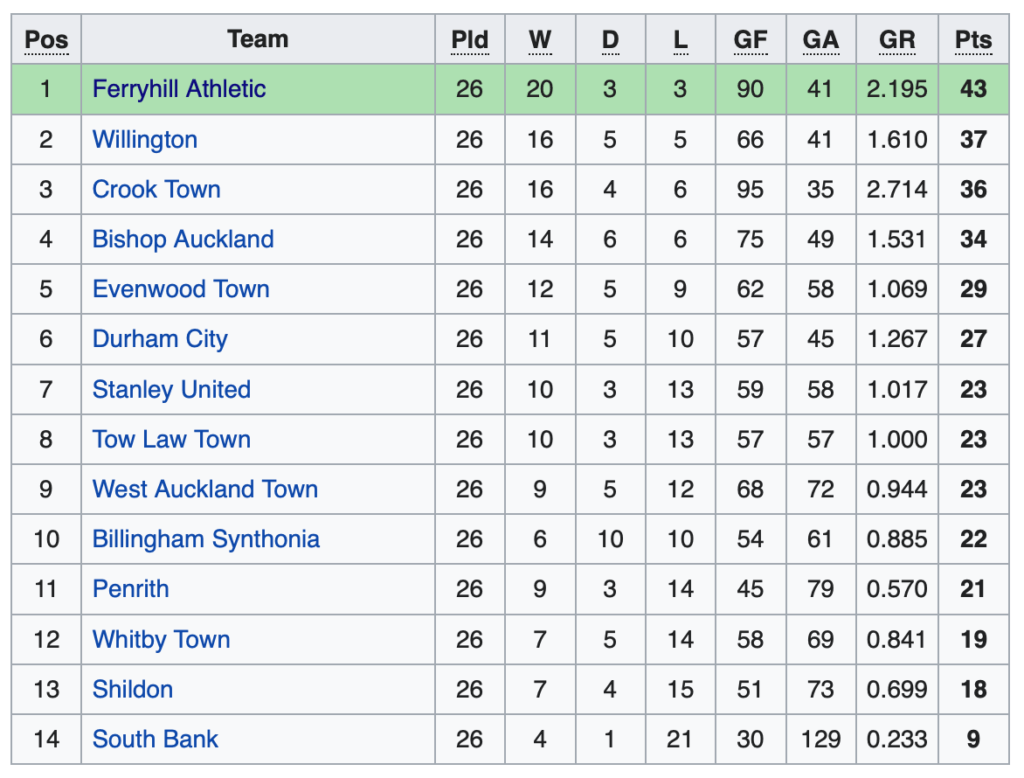 Ferryhill won their third Northern League title by 6 points from Willington, losing only 3 league games and winning 20 out of 26, scoring 90 goals (equalling the total from the previous championship winning season in 1947-48).
They were unbeaten at home, dropping only two points against Bishop Auckland and Shildon. The biggest wins being a 9-0 annihilation of Penrith, followed by a 7-1 thumping of Shildon (away).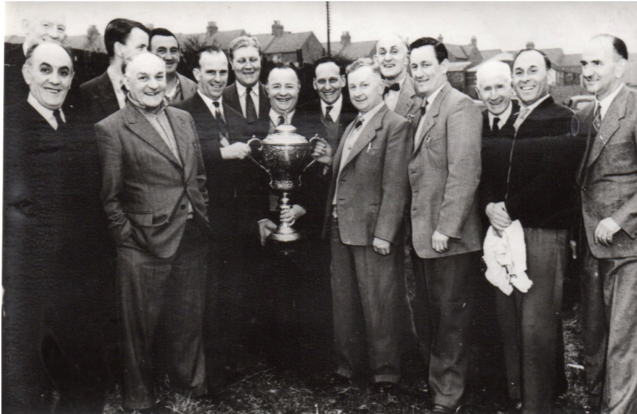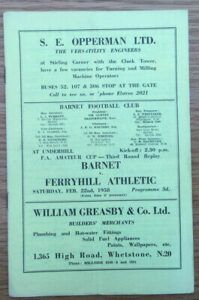 In the Amateur Cup, Athletic surprisingly beat Pegasus 2-0 away in the 2nd round (Leach and Snaith), and then Ferryhill took on Barnet in the 3rd round in February 1958. The game went to a replay after a thrilling 3-3 draw at Darlington Road, with Norman, Leach and Snaith hitting the target for Ferryhill. Barnet won the replay 4-2. Snaith and Leach were on the scoresheet again for the 'Latics.
Crook Town beat South Bank 12-0 both home and away. How embarrassing for South Bank!
1958-59   9th
Ferryhill only won half as many games as in the previous championship winning season, so retaining the title was never going to happen. The home record wasn't brilliant (W5 D4 L5), whilst away was only slightly worse (W5 D1 L9). Obviously these weren't good enough to challenge for anything.
The standout victory at home was a 6-2 win over Whitby Town. Crook dealt a lesson with a 1-6 away win.
Away from home, Ferryhill were thrashed 9-1 at Bishop Auckland in November. Harry Bell was the 'Latics lone goalscorer. The other away games away from Darlington Road were lower scoring and Ferryhill actually lost quite a few by just the odd goal.
Whiltley Bay Athletic joined the league in 1958-59 and beat champions Ferryhill 3-1 early on in August. Ferryhill goalkeeper Roly Robinson pulled a muscle and George Masters had to go in goal. Derek Leslie was Athletic's scorer.
Amateur Cup winners Crook Town beat Ferryhill 2-1 en-route to the final.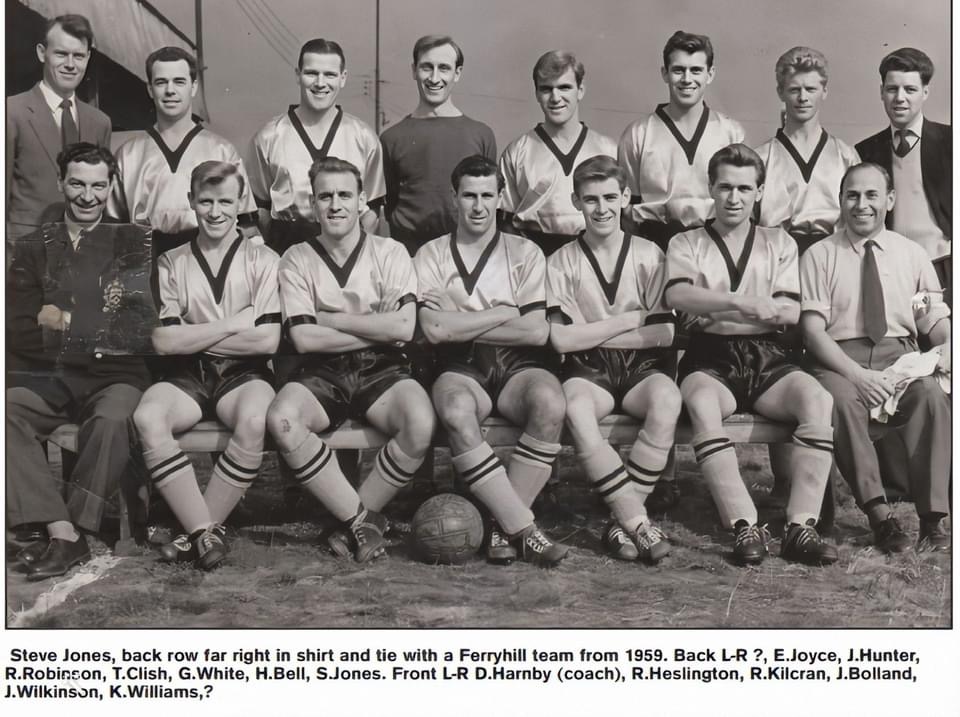 1959-60   6th
A much better season. The defence tightened up and the attack hit the net more often.
In September, Ferryhill brushed aside South Bank in the Northern League Cup by 7-1 (Heslington 2, Kilcran 2, Williams and Bolland).
A few weeks later, Athletic thrashed Billingham Synthonia 8-0 away, with hat-tricks from Kilcran and Williams and Heslington got a brace. They also ran away 6-0 at home against the Syners.
The 'Latics duplicated their 7-1 thrashing of South Bank in the League Cup by beating them by the same score at Darlington Road in the league. Heslington 2, Davison 2, Wilkinson, Williams and Kilcran registered.
In the Amateur Cup, Ferryhill had beaten Sheffield and Marine 1-0. They were then drawn away against Kingstonian and came away with a 3-3 draw, but lost the replay by a 2-4 scoreline.