From the Northern Echo, Saturday November 17th 2018.
Sixty-five years ago, at the start of the 1953-54 season, Ferryhill Athletic made waves in the FA Cup competition by hitting the highest number of goals ever recorded by a North East team, amateur of professional, in a single game in the FA Cup competition, when they beat Skinningrove Works 18-0 at home in the First Qualifying Round of the FA Cup, after beating them 7-0 in the same round the previous season.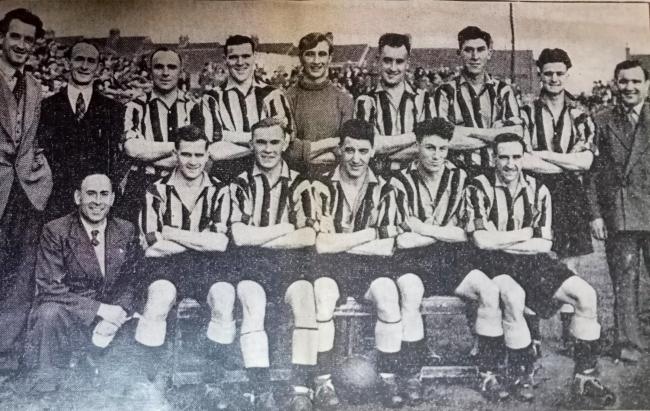 The 18 goals were scored by Allen 4, Kitching 4, Maughan 3, Duery 3, Edgar 2, Masters and Whitfield. Still hungry for goals, Ferryhill disposed of Head Wrightson 7-1 in the Second Qualifying Round, with inside right Kitching once more hitting four goals, backed up by Duery 2 and Edgar.
There were more sober victories over Billingham Synthonia 1-2 away (Maughan 2) and South Shields 2-0 at home (Duery, Fagan) in Qualifying Rounds Three and Four.
Their prize in Round One Proper was a trip to Workington from the Third Division North on Saturday, November 21, 1953. A train load of their supporters swelled the already large crown, which included Leeds United manager Raich Carter, who was on a "spotting" expedition.
Early in the game, the 500 Ferryhill supporters shouted "Shoot" when Fred Maughan broke through, but he could not beat the keeper. Shortly after, the same supporters shouted "Goal" when Duery put the ball into the Workington net, only for the effort to be judged off-side.
Workington piled on the pressure and Roly Robinson in the Ferryhill goal did well to deal with a flashing shot from McAlone, but in the 42nd minute the home side went ahead with a goal from Stokoe. Simmonds made it 2-0 just after the break and then both sides began to tire. It was late in the game when McAlone hit a 3rd for the home side to leave Workington the 3-0 winners. Roly Robinson though was the Man of the Match.
Ferryhill team : Robinson, Brewis, Hunter, Masters, Nisbet, Whitfield, Allen, Kitching, Maughan, Duery and Fagan.