The decade of the demise. Ferryhill were mired in financial problems toward the end of the decade, ending in the famous club going out of business. They lost their ground, their heart and their existence, at a time when football was booming. Sadly, little money trickled down from the Premier League and grass roots clubs could only watch enviously.
1990-91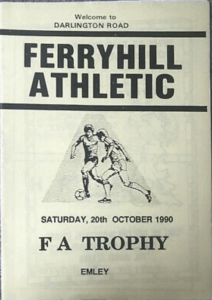 1991-92
A shocking quality photograph from Paul Robinson's book 'The Hill' reveals The Athletic squad for 1991-92 to be
Mason, Moffat, Peachy, Gilham, Redhead, Richardson, Seymour, Cowell, Barrass, Parnaby, Simpson, Gorman and Richardson.
If I get a better copy i'll post it here, but until then….!
1992-93
1993-94
Irishman Terry Cochrane, formerly of Middlesbrough,  turned out for Ferryhill in the 1993-94 season. He played in most of Northern Ireland's World Cup Qualifying games in 1982. He'd finished his career in the Northern League from 1987, appearing for Billingham Synthonia, Marske United, Billingham Town and South Bank before coming to the Athletic.
1994-95
1995-96
Relegated to Northern League Division 2
1996-97
Membership of the Northern League suspended
1998-99
FERRYHILL FOOTBALL AND ATHLETIC CLUB LIMITED (THE) was dissolved on 12th January 1999
Ferryhill Athletic joined the Wearside League, where they played until the club folded completely in the 2005-06 season.