1960-61   3rd
This was a very good year for Ferryhill Athletic. They won their first 12 games in all competitions, before losing to Scarborough in the FA Cup.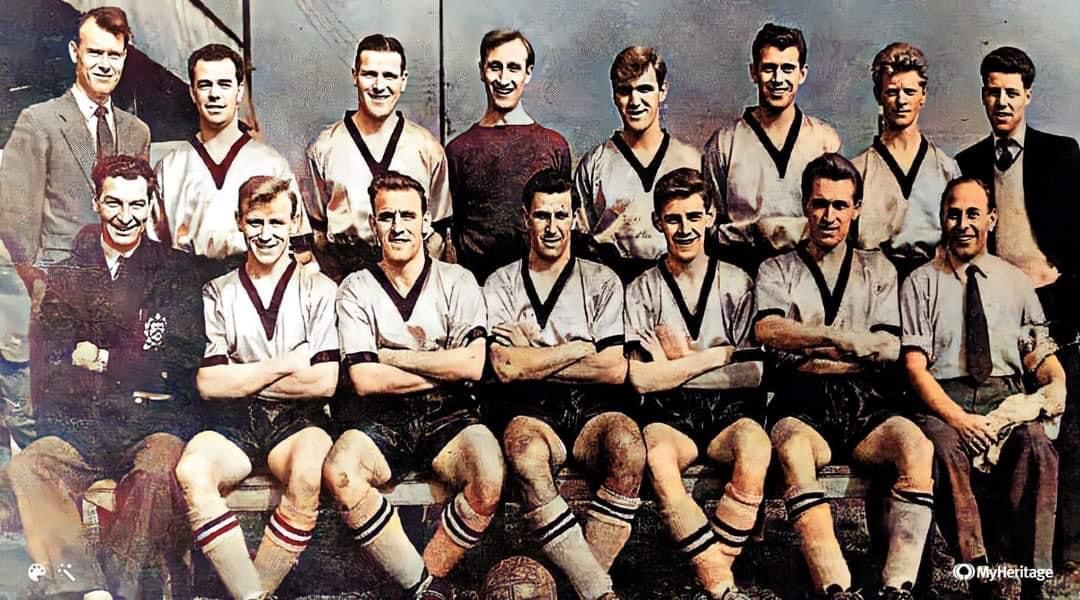 Ferryhill were involved in a fireworks display of their own on November 5th 1960 when they met Whitley Bay away. The match finished 6-3 to Whitley Bay after being tied at 3-3, with Wilkinson, Heslinghton and Kilcran hitting the onion bag for Athletic.
Ferryhill were one of four Northern League clubs in the Amateur Cup 3rd round and met Hitchin Town, but lost 2-3.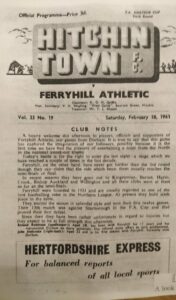 At home Ferryhill were W10 D2 L3 and this kept them in touch until the last couple of games. They eventually finished four points back from the eventual champions West Auckland.
A torrential downpour threatened to wash out West's last game, but the local fire brigade pumped a quarter of a million gallons of water from their home ground to allow the game to take place!
1961-62   9th
The yo-yo seasonal performances continued the following season, dropping Ferryhill down to 9th position. At home, their record was nearly identical as the previous season (W10 D1 L4), it was the away performances that let them down. They only won three times away, resulting in their final mediocre league position. They beat only one team that finished above them away from home (Crook, who won the Amateur Cup again)
The best home performance was undoubtedly the 8-4 win over Bishop Auckland in August 1961. O'Connor 4, Heslington, Wilkinson, Williams and Kilcran were the heros.
1962-63   12th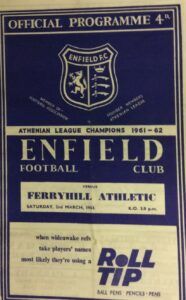 The famous severe winter of 1962-63 meant that only six Northern League games were able to take place between December 29th 1962 and March 3rd 1963.
Darlington Road is extremely exposed and even heroic efforts by the locals could not get games staged.  On 17th November 1962, in a match between Stanley and Whitby, Stanley were reduced to only six men because of Arctic weather conditions. The game was eventually abandoned after 75 minutes. The same day also saw Whitley Bay and Willington abandoned, this time after only 40 minutes.
In the league, Ferryhill drew 14 of their 30 games, including 9 of their games at Darlington Road. The best result of the season was undoubtedly the 2-1 victory at eventual runners-up Stanley United.
Ferryhill lost 2-0 at Enfield in the 3rd round of the Amateur Cup.
1963-64   5th
Another good season overall, a 5th place finish being a substantial improvement over the previous season. Stanley won the league by a single point, with revenge for their home defeat the previous season by caning Ferryhill 8-1 in early April.
In the FA Amateur Cup, Athletic progressed to the Quarter Final stage before losing 0-1 to Kingstonian on March 7th 1964. Ferryhill held out until the 75th minute, but just couldn't force the replay.
1964-65   8th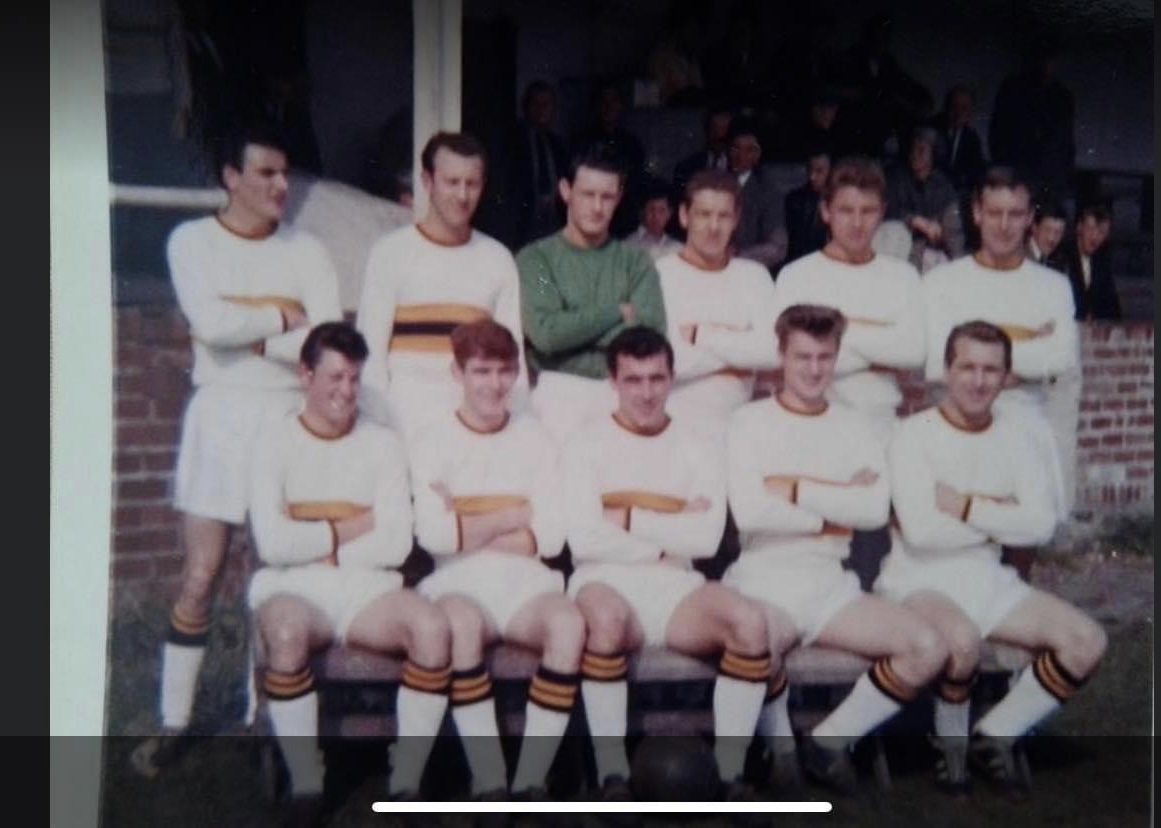 The biggest home win of the season was a 7-1 crushing of South Bank, but the best was undoubtedly the 3-2 defeat of eventual champions Whitley Bay.
Ferryhill again reached the 3rd round of the FA Amateur Cup, beaten 1-2 at home by Finchley. Athletic had previously put out Tow Law by a 2-1 scoreline, and Penrith 3-1.
1965-66   11th
Ferryhill opened their account at home with a 2-1 victory against Penrith. They won their next match too, but in the return at Penrith they lost 8-1. Ken Williams got the only goal.
This wasn't the only heavy defeat in 1965-66. The Athletic were also thumped 7-0 by 4th placed North Shields, when Ferryhill were a place above them. Evenwood also scored seven against Ferryhill in a 7-1 defeat. Norman Alder got the Latics only goal on this occasion. Evenwood were said to play "with a lot of speed and dash". It certainly seemed to work!
Such was the fixture crush at the end of the season that Whitby played twice at home in one day, May 7th. They lost both, the second of which was a 3-0 defeat to Ferryhill. Blyth 2 and Hall scoring for the Latics.
Ferryhill's away form was particularly poor. They conceded more than 6 goals on five occasions.
1966-67   14th
Prestwich Heys put Ferryhill out of the Amateur Cup in the 1st round, after a 1-1 draw at Darlington Road. Heys triumphed 4-0 in the replay.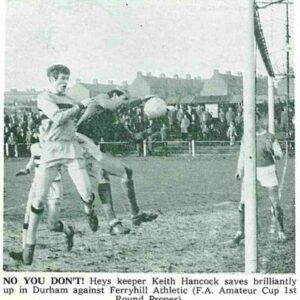 1967-68   16th
Nothing much went right for Ferryhill in 1967-68, made worse by the fact that arch rivals Spennymoor United won the league easily.
The best result of a poor season was undoubtedly the 6-3 victory over visitors Shildon in early January 1968, with 5 of the 6 goals coming from the Ferguson brothers (Norman 3, Eric 2).
Athletic shipped loads of goals away from home, including a 9-2 defeat at Penrith, who actually finished a place below Ferryhill in the final table.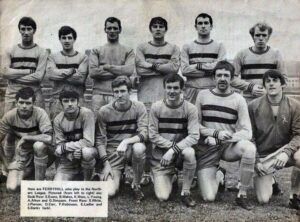 1968-69   17th
A very poor season, the slide continuing, but at least Ferryhill reached the final of the Durham Challenge Cup, meeting Consett from the Wearside League.
The floodlights at Darlington Road were used for the first time on Tuesday, March 4th 1969 during a Durham Benevolent Bowl game against Bishop Auckland which Athletic won 3-0.
Durham Challenge Cup Final v. Consett

Consett became the first Wearside League outfit to win the trophy, beating Ferryhill Athletic by a 2-0 scoreline at Feethams, Darlington.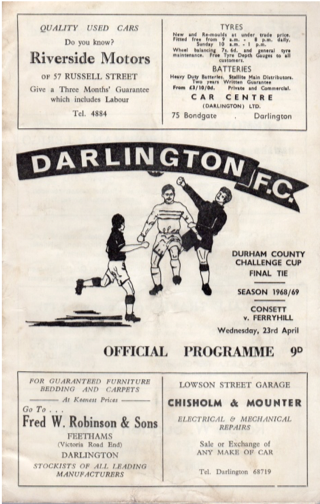 Ferryhill Team : Selway, Evans, Wakes, Simpson, Smith, Handley, Heron, White, Dixon, Boagey, Coates, Banks and Laidler.
1969-70   18th (bottom)
After the disappointment of the previous season, Ferryhill hit rock bottom in 1969-70. They finished with only 14 points, having 2 points deducted. The season didn't have many highlights other than negative ones. Ferryhill won only 4 games at Darlington Road, the most notable being a 2-0 victory over local rivals Spennymoor United, who eventually finished 4th behind Evenwood, Whitley Bay and Blyth Spartans.