1980-81  6th
The 6th placed finish in the 1980-81 season was Ferryhill's 'best of the decade'. They amassed 61 points, which was their highest points haul in a regular season, from 38 games.
John Grady and Kevin Elliot were chosen for The Rest of League side that beat the previous season champions, Blyth Spartans 1-0 at Blyth on October 14th 1980.
In March 1981 in the FA Trophy, Ferryhill spanked Willington away from home by 6-0. Hutchinson 2, Brown, Pearson, Johnson and Bartlett hit the net.
Spennymoor United taught Ferryhill a lesson in their last game of the season on April 29th – a rousing 6-1 victory, which was Ferryhill's heaviest of the season. However it wasn't quite good enough to win the title, Blyth Spartans won their own last game at Crook to pip them to the title by a single point.
1981-82  11th
1982-83  12th
1983-84  16th
1984-85  14th
1985-86  18th
1986-87  18th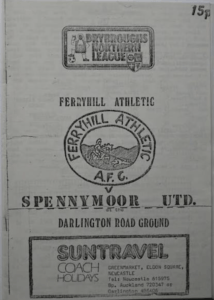 1987-88  14th
1988-89  8th
Alan Shoulder played for Ferryhill after having to retire from professional football in December 1988 because of an eye injury. He was of course previously at Newcastle United (1978-1982) where he scored 35 goals in 107 games for the Magpies.
1989-90