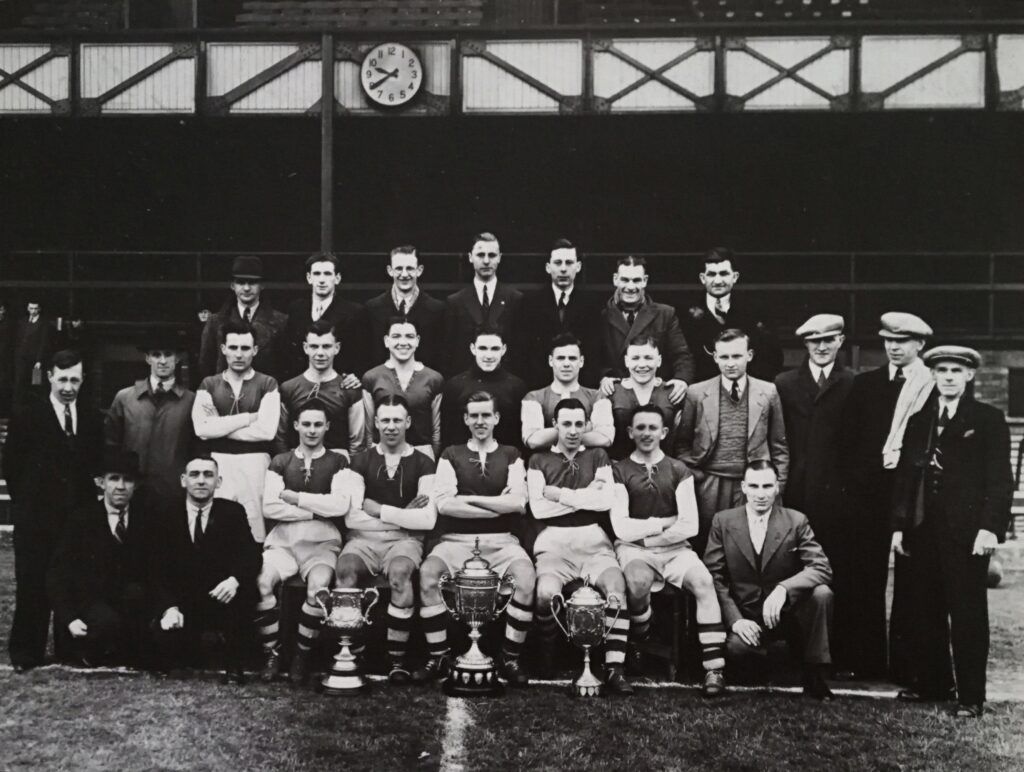 1930-31   13th (bottom)
This season was Athletic's poorest so far. They lost 17 of their 24 games, with only four victories.
Of the wins, the 7-0 defeat of Eden Colliery Welfare at Darlington Road was notable, and they also produced an impressive 7-2 demolition of Trimdon Grange Colliery. They also took a point from eventual champions Bishop Auckland at home in a 0-0 draw.
The nadir of the season was undoubtedly an 0-8 drubbing at the hands of Stanley United. This was Ferryhill's heaviest home defeat to date.
1931-32   7th
Ferryhill were represented by Bill Flatman in the champions Bishop Auckland v The Rest of the League game in August 1931. Bishops won 3-0.
A much better season saw a recovery to mid-table. Goal difference returned to the +ve for the first time since the 1926-27 season. Victories were spread equally, home and away, with 6 each. The heaviest defeat was 0-7 away to eventual champions Stockton.
1932-33   5th
Another better season for The Athletic. Ferryhill were quite strong at home, with an incredible 12-0 anihilation of Tow Law Town being the highlight.
Ferryhill Athletic's Sammy Keers featured in the Rest of the League team that lost 3-2 to Champions Stockton in May 1933.
1933-34   4th
The steady improvement continued.
On the opening day of the season, Ferryhill and Bishop Auckland played out a thrilling 5-5 draw at Darlington Road. Dickie Scott (2), James Carr (2) and Joe Whyman scored for Ferryhill.
Ferryhill lost a great player midway through the season as centre-forward James Carr signed terms with Arsenal in November 1933.
The Athletic were very strong at home, losing only once by the odd goal against Whitby United. 44 of their 63 goals came at home, scoring five or more on five occasions.
Away from home, points were harder to come by and Athletic got a few good thumpings, with a 1-7 defeat at Bishop Auckland being the worst. They eventually finished 9 points back from the eventual champions Shildon.
1934-35   3rd
Sixteen wins from 26 games saw Ferryhill finish 3rd in the 1934-35 campaign.
Ferryhill were again supreme at home, winning every game but one (a 1-3 defeat to eventual champions Shildon).  They had their shooting boots on in March 1935 when they hammered bottom club Evenwood Town 8-2. Goals came from Jackson (3), Brittain, Cutler, Leng, Singleton and Laverick.
They beat Amateur Cup winners Bishop Auckland home and away.
The Northern League played the Yorkshire League in April 1935 and Bobby Brittain was Ferryhill's representative. The Yorkshire side featured several players from Football League squads, but the Northern League went down 3-4.
Joe Dowsey and Bill Singleton were in the Rest of The League team against Champions Shildon at the end of the season.
1935-36   8th
The following season was a lot harder. Ferryhill Athletic were great at home, but mostly rubbish away from home. The season featured Ferryhill's heaviest defeat of the decade, losing horrendously by 13-0 to South Bank, who were the eventual runners-up. Jack Coultard scored TEN of the goals. This was a Northern League record.
Ferryhill shipped 51 goals away from home but conceded only 13 at Darlington Road. Very Jekyll and Hyde from to say the least.
The best home performance at Darlington Road was the 8-2 victory over hapless Tow Law Town, with Rigby (4 on debut), Booth (3) and Leng hitting the net for the 'Latics.
1936-37   8th
Shildon dominated the league again, winning their fourth consecutive championship, in a season when former bad boys Crook Town were re-elected.
Ferryhill again flattered to deceive, mostly great at home and poor away from Darlington Road. Their most spirited performance on the road was probably the 5-5 draw at West Auckland, at one point being 4-2 down and finishing the game with 10 men after talisman Leng was injured when scoring.
At home, Ferryhill again thumped Evenwood (6-2) and won nine of their eleven successes there. The only two away wins were at Evenwood and Willington, the teams that finished immediately below them at the end.
1937-38 Northern League Champions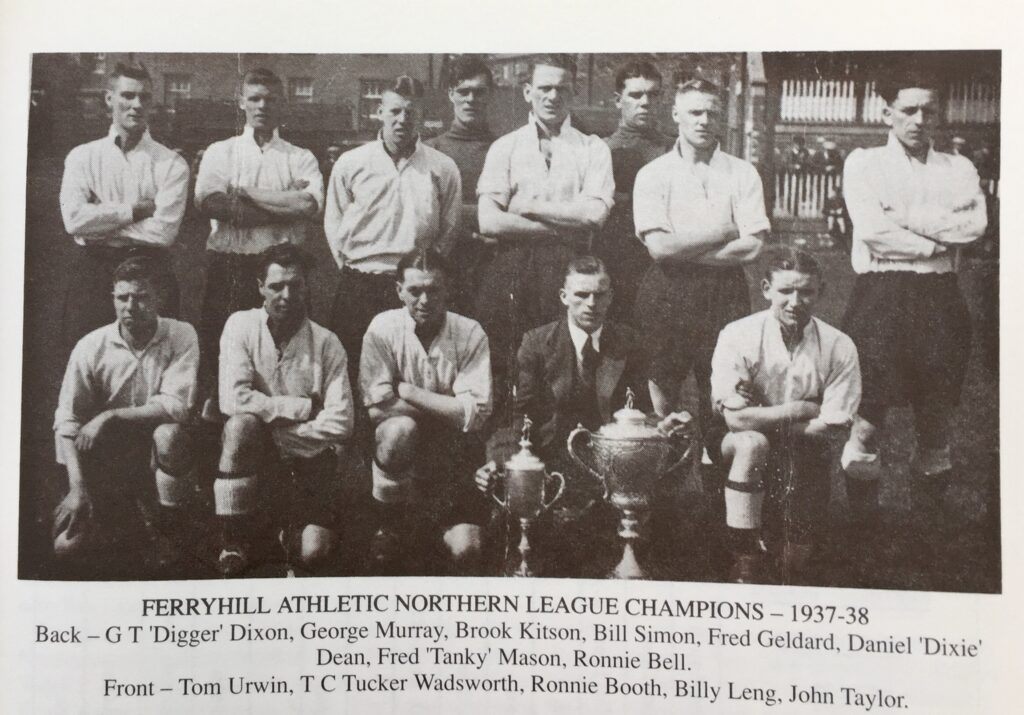 Ferryhill cruised to the first of their Northern League Championships just before the Second World War. They banged in 50 goals at home during the campaign, winning every game, with an 11-4 hammering of Tow Law Town in January being the biggest of the season. The captain Billy Leng scored 6 of them, Booth got a hat-trick too and Kitson and Taylor completed the scoring.
Shildon were again top of the pile at Christmas, but the Tow Law victory in January signalled Ferryhill's intent.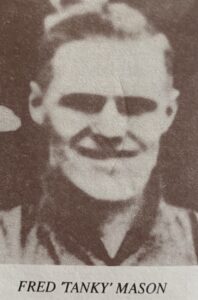 Inside-right Dicky Dunn moved to West Ham in February 1938, but that didn't stop the Athletic who moved 2nd with a comprehensive 7-1 win over West Auckland in April. Prolific captain Leng got four, with Booth, Urwin and Kitson wrapping it up.
The season defining game was the 4-pointer at Darlington Road on April 16th before a crowd of 2,000 fans. Ferryhill beat reigning champions Shildon 2-0. Leng and Wadsworth scored the goals. Two days later, Athletic found themselves a couple of goals adrift at Evenwood, but rallied to win 3-2.
The final run-in resulted in a 2-1 defeat of Willington and a 2-0 success at West Auckland. They confirmed themselves as champions with a 5-0 dumping of Evenwood at Darlington Road.
Fred 'Tanky' Mason, who got on the scoresheet that day, had won 5 consecutive championship medals, 4 with Shildon and then with Athletic.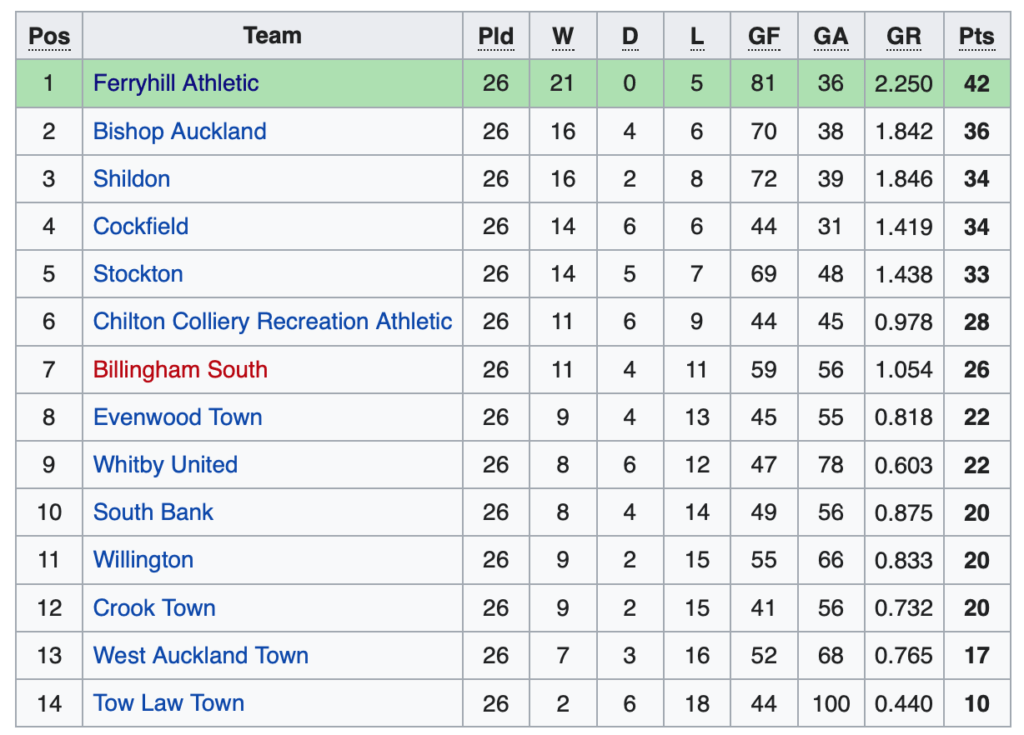 1938-39   9th
The final full season before the Second World War intervened was a disappointment for the Athletic after the euphoria of the previous season. They opened well, with a hard-fought 5-4 win over Chilton.
In October, former Athletic and Shildon keeper Alf Hobson was transferred from Liverpool to Chester for £1,000.
In late February, Ferryhill were crushed 8-3 at Billingham. Ferryhill's three were all scored by Tom Urwin.
In April, Ferryhill kept up their 'always the bridesmaid' run in the Northern League Challenge Cup, this time being beaten by  Shildon by two goals to nil in the final at Kingsway, Bishop Auckland.
Bishop Auckland won the league and the Amateur Cup, with a team featuring Bob Paisley who of course went on to manage Liverpool.
1939-40   Resigned due to WW2
As War was declared in September 1939, the Northern League was curtailed. Six clubs, including Ferryhill Athletic, resigned (16th December 1939) their membership due to 'wartime difficulties'. Ferryhill Athletic had played 10 games by then, but the results were expunged.
The league was re-organised and featured 8 clubs (Shildon, Bishop Auckland, Crook, Heaton Stannington, South Bank, West Auckland, Tow Law and Willington).
Tow Law and Willington then resigned in March 1940, leaving the final table featuring only 6 clubs. Shildon were declared champions.