Ferryhill Athletic v Shildon August 27th 1955
by Peter Sixsmith
The place where I worked for most of my life against the place I have lived most of my life – so I had to include this one. This was an early season game, Ferryhill's first at home, in what was to be an average season for both clubs.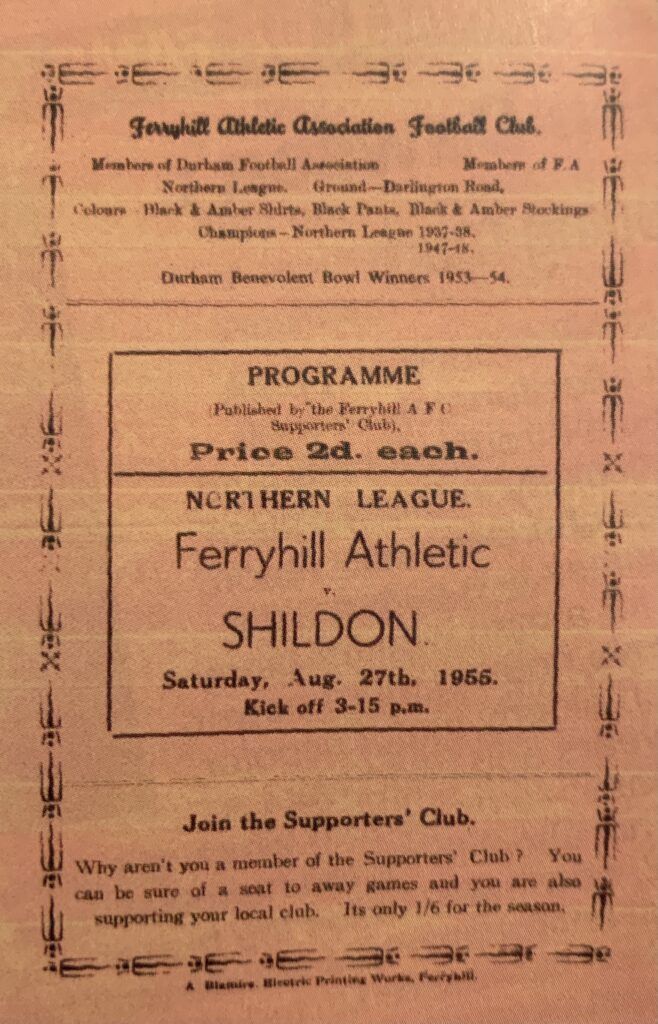 Neither side was in any danger of challenging for the championship, and with no relegation it could have been a dull old season.
There had been talk of forming a 2nd Division at the AGM, held at Redcar's Coatham Hotel, but the clubs had shown no interest, so nothing came of it.
Shildon won this game 4-0, with a young Keith Hopper appearing on the left wing. The programme promised visitors to The Post Boy that they would be welcomed "with a smile" by landlord and landlady Mr. and Mrs. Burns, while I Tarn of Darlington Road, purveyors of Grocery, Provisions and Confectionery, promised "Quality, Service and Civility" to all his customers.
ITV was a month away from being launched as the demand for the box in the corner grew – although we here in the North East had to wait until 1956 before Adrian Cairns welcomed us to Channel 8.
1955-56 was another title winning season for Bishop Auckland, with Whitby Town stuck at the bottom.